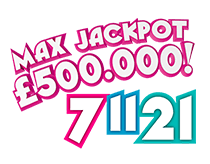 7-11-21
3 chances to win, 3 lucky numbers. You select the golden coins and see if your sums add up to a fortune!
7-11-21
HOW TO PLAY
Select 3 lucky coins for each game.
Touch or swipe the coins and see them add up.
Get a total of 7, 11 or 21 to win!
There are 3 chances to win.
GAME INFORMATION
To start the game, tap the 'Play' button. This will then change to a Reveal All button. You can choose to reveal the coins by touching them, swiping several at once or press the Reveal All button to do it automatically.
Choose your coins, which will reveal numbers to be added together. If you hit the lucky numbers 7, 11 or 21 you will win the prize revealed.
In the event of a win (once the card is complete), the total win value from all 3 games will be awarded and added to your account balance.
If there is no win, the button will change to 'Play' again for you to buy another card. Tapping the 'Play button will reset the card for a new game.
The theoretical average return to player (RTP) is 92%. This RTP represents the long-term expected payback of the game which has been calculated by an independent testing company.