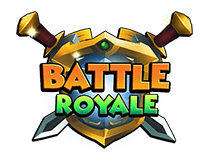 Battle Royale
Choose your heroes, select your battleground and fight for the prize in Battle Royale
Battle Royale
GAME INFORMATION
Instant win game with battle animation and distinct bonus prizes
Set your five heroes to fight in this fantasy inspired gambling game
Each hero takes on an enemy – win a prize for their victory
Select different teams of heroes with a range of prizes and volatility
Win individual heroes at the end of battles to add to your collection
When you have 11 heroes you can set up your own unique teams
Each hero has their own special abilities and prize potential
Start the game in the forest location and open access to other locations
Find the bonus card in each location for a specific bonus round
Forest location gives you a boss dragon fight for its treasure
Pick lava stones to reveal prizes in the volcano location
Swamp location sees you repel hordes of venomous villains
Desert location gives you five free battles with the chance to earn wins
Treasure island location opens up once every 24 hours
Grab 20 battles at the treasure island location with 25% extra winnings
Maximum jackpot prize of 100,000 coins available through treasure island
Average hit frequency at 35% with initial predefined team formation
Return to player rated at 90.42%
HOW TO PLAY – BONUSES
Line up your team of 5 adventurers in Battle Royal against hordes of monsters. Each hero is dealt cards to decide the outcome of the fight. Win battles to gain prizes and dodge the skull cards to avoid defeat.
This simple game plays upon popular turn based role-playing games. Combine the best aspects of fantasy driven fun with some real casino action and grab a ton of prizes on the way.
Select Your Team
Battle Royale gives you a chance to choose your team of heroes. Select the characters that appeal to you and grab a blend of higher prizes or more wins. The choice is up to you.
Each hero has their own special abilities and can use these at any time during a battle to knock out enemies and add extra prizes into the mix.
Choose from groups of adventurers at the beginning of the game. Win extra adventurers as you progress through Battle Royal. When you have 11 adventurers you can compose your own teams.
With the options to go for well-balanced set groups of heroes or go completely wild and pick your own, find the bunch of adventurers who are going to grab the gold on your behalf. Those monsters won't know what hit them.
Island Choice
The bonus game is activated when one of your team is dealt the bonus card during a battle. This will a different outcome depending on your island location. The game starts with the forest location and then you can collect island stones to open up more locations as you progress. Expect the following location specific bonus rounds:
Forest bonus – here all your heroes combine in one brave effort to defeat the boss dragon and acquire his horde of treasure.
Swamp bonus – your heroes are beset by a group of villains. Fight them off with the help of a magic crossbow. Survive 5 waves for the biggest prizes.
Volcano bonus – pick as many lava stones as possible off the grid. The game end when you hit a multiplier stone and collect your prizes thus far.
Desert bonus – hit this bonus round and play out 5 free battles at the current bet level and total up your winnings at the end of the bout.
Treasure Island
This mystical island appears once every 24 hours and is only available for 20 games. All your wins receive a 25% bonus on the island and there's a chance to win the biggest prize on offer of 100,000 coins.