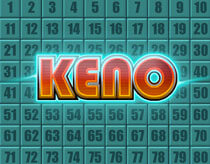 Bonus Keno
It's one of the classics of our time – Bonus Keno – giving you that big money Las Vegas lottery style thrill. Featuring some truly massive money prizes.
Bonus Keno
GAME INFORMATION
Bonus Keno delivers one of everyone's favourite casino classics with a unique and exciting twist. Collect bonus jokers to win yourself an extra round of picks on the grid, or land the random numbers in a J pattern to bag a jackpot prize. This fast-paced and automated take on the lottery-style big money game will keep you on the edge of your seat with every play.
Classic Keno game with progressive jackpot prize
Pick 10 numbers and match them in the standard game
Jackpot prize seeds at 5,000
3.0% stake contribution to the jackpot
Collect jokers to win a bonus round
Hit a J symbol on the grid with drawn numbers to win jackpot prize
Prizes paid for 3 matches or more on the grid.
Maximum standard payout of €50,000
Return to player rated at 88.5%
HOW TO PLAY
Bonus Keno pays you out prizes for matching between 3 and 10 numbers on the grid, with the chance to win bonus prizes.
Use the LEVEL function to select your bet size.
Before the game starts either pick your numbers manually or use the AUTO-PICK function to randomly select numbers on the grid. Remove all numbers from the grid with the CLEAR function.
Commence your game with the GO button.
Auto-play is possible with the PLAY 5 and PLAY 10 buttons which start 5 and 10 games respectively
HOW TO PLAY – BONUSES
During every game round you have a chance to hit a bonus joker. Collect five bonus jokers over the course of your game-play session and this will trigger one complete bonus game where you can win all the Bonus Keno prizes.
Land in a J symbol anywhere on the grid with the randomly drawn numbers and you'll win the Bonus Keno progressive jackpot. The larger your stake the bigger the percentage of this money you'll win – ranging from 20% - 100% for 1 to 5 coins respectively.