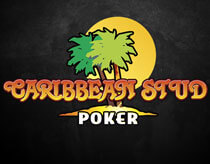 Caribbean Stud Professional
Play against the dealer in Caribbean Stud Professional. This progressive Poker title gives you a chance to shoot for the big time with all the classic hands and action.
Caribbean Stud Professional
If you love the feel of the casino and can't wait to turn a hand of five cards to find if you have the best combination, then you'll love the red hot action in Caribbean Stud Professional. This version of one of the casino greats gives you a chance to pop a chip for a big money jackpot, with all the spoils and glory going to the player lucky enough to land a royal flush.
Casino style Poker game with progressive jackpot
Play against the dealer in a heads up scenario
Dealer qualifies with an ace or king or higher
All the standard Poker hands and hierarchies apply
Simple and fun version of the all-time gambling classic
Bet set ante per hand to qualify for the progressive jackpot prize
Return to player rated at 97.42%
HOW TO PLAY – INSTRUCTIONS
Caribbean Stud Professional is a progressive jackpot game. Place the required ante on the JACKPOT marker for your game to qualify for this big money prize.
Use the various denominations of chips to place your opening bet on the ANTE marker. When you are satisfied with your bet press the DEAL button to receive your five card Poker hand.
If you are unhappy with your bet use the red cross cancel chip to wipe out your bets before you press DEAL.
When you receive your Poker hand, you can either FOLD, which gets rid of your hand or CALL for 2 times your ante bet and see the dealer's hand. The winning hand is then evaluated and any wins are paid.
If you have three of a kind or better and have paid a JACKPOT bet you will also be reimbursed based on the quality of your hand.