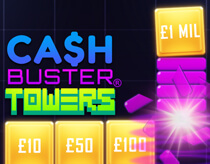 Cash Buster Towers
Set your reels spinning to destroy the towers and collect the bonuses along the way. There are 5 different ways to win, so see if you can spin your way to the top!
Cash Buster Towers
GAME INFORMATION
Instant win game with configurable bet values
Reel-based tower destroying game
Remove all the blocks in a tower to win
Two bonus games, two instant prizes and a collection bonus win also available
Return to player rate of 76.54%
Continued play available
Jackpot of £1,000,000 available
HOW TO PLAY
Spin the reels to destroy the towers to win. Collect symbols from the reels to unlock the Bonus Games or win Instant Prizes. At the end of the game, if you haven't won you can choose to buy extra spins to win.
Set your chosen bet amount – decide how much you want to wager on a single play. Remember, the more you bet – the more you can win.
Spin the reels – After each spin each of the 6 reels will show a number of blocks to destroy, a bonus symbol or even an instant prize.
Maximise your chances – if you have fully destroyed a tower, won in a minigame or collected an instant prize, you win the corresponding amount. If you haven't won, you can choose to continue your game up to three times for another chance at a prize!