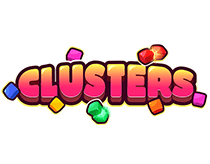 Clusters
Blast off into a universe of instant win fun with every single play on the awesome Clusters game
Clusters
GAME INFORMATION
Instant win game with cluster collection system
Every game gives you 6 turns on a colourful cluster wins game
Collect clusters of 3 or more similar colours and store in a side grid
Collected symbols persist within the grids for the duration of your game
Completely fill a grid with coloured symbols to win the corresponding prize
Grab 1x, 10x, and 20x instant win prizes from your coloured clusters
Hit 4 stars in a single game from cluster wins to earn the 25x multiplier
Get the coloured ring from a cluster win to start the mini bonus game
Mini bonus uses a coloured wheel system where you can win extra symbols
Maximum win of 50,000x your initial stake
Return to player rated at 75.00%
HOW TO PLAY BONUSES
For out of this world fun that will transport you to another galaxy of cash, it has to be the on-the-button action of Clusters. This interstellar instant win title will have you blasting off in all directions as you become over the moon with the following mechanisms:
Colour Collection Madness
Every time you play you get 6 turns on the awesome clusters game. Hit the button to receive a new set of coloured spots on the grid. Clusters of 3 or more adjacent symbols of the same colour are transported to the grids at the side of the screen. Completely fill a line on the grid to win that prize.
During the game the symbols you collect stay in the grids, allowing you to accumulate stocks of each creating a ton of suspense as you move towards those vital final turns.
Instant Bonus Fun
Making a cluster including the spectrum coloured ring and you'll activate a bonus game where you can win extra coloured icons to add to the corresponding grid.
During your plays you have a chance to collect instant win prizes of 1x, 10x, and 20x that are calculated at the end of all your turns. Hit clusters that include the stars to collect stars, these are recorded on the spaceship. Four of these in a single game session win the maximum single multiplier of 25x.