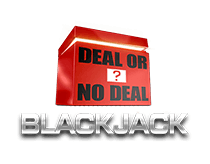 Do you take what's in the box or step up to play against the house? It's Deal or No Deal Blackjack
Deal or No Deal Blackjack
GAME INFORMATION
Classic game of Blackjack with Deal or No Deal element
Simple interface makes gameplay both fast and fun
Fully responsive on desktop, tablet and mobile phone
Player can play between 1 and 3 hands per game at the table
When all cards have been dealt the player will be offered a cash value for each hand
Player chooses which deals he wants before playing out hands as standard
Player can split hands, double down, hit and stand as in normal blackjack
The dealer must stand on 17 or better or hit on 16 or worse
Player can take insurance on Blackjack
Return to player rated at 99.33%
HOW TO PLAY BONUSES
Deal or No Deal Blackjack is a clever take on two of your favourite gambling games. How does it work? You're dealt your Blackjack hands with the option to place between 1 and 3 bets across the table. Once all the hands are dealt, including the dealers, you'll be offered a cash value against the hand which gives you the option to take the deal or no deal option. Take the deals you like or reject the offer to play out your hands against the house.
The dealer must stand on 17 or higher and must hit to 16. It's the dealer's cards and the player's cards together that will determine the value of the deal. Split, hit and double down as normal and even take insurance out on Blackjack. Once you've chosen to play it's the same, much-loved, fast-paced card game you have always enjoyed.
Clever play will allow you to maximise your returns by choosing which hands to play out at the right time and which ones to drop for a far too lucrative deal.