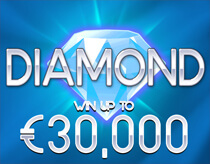 Diamond Blue
Play in the lap of luxury with Diamond! Reveal 9 prize amounts hidden behind the 9 diamonds and match three to win.
Diamond Blue
GAME INFORMATION
Delve into the Diamond world and reveal your 9 prize amounts. Uncover three matching amounts to win that prize, or find a diamond ring in the lock box to win a bonus! With prizes as brilliant as the diamonds, you won't want to miss out!
You have 9 diamonds and a bonus prize box to reveal.
Every diamond will reveal a prize amount underneath. Reveal three matching prize amounts and win one of those amounts.
Open the bonus prize box and, if a diamond ring is inside, win the corresponding prize.
A win is achieved by:
Matching three prize amounts
Revealing a diamond ring in the bonus prize box