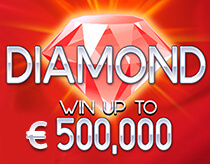 Diamond Red
Play in the lap of luxury with Diamond Red! Reveal 9 prize amounts hidden behind the 9 diamonds and match three to win. If you find a diamond ring, you win the bonus prize! Indulge in the richness of these dazzling diamonds and see if you can strike it rich!
Diamond Red
GAME INFORMATION
Delve into the Diamond world and reveal your 9 prize amounts. Uncover three matching amounts to win that prize, or find a diamond ring in the lock box to win a bonus! With prizes as brilliant as the diamonds, you won't want to miss out!
You have 9 diamonds and a bonus prize box to reveal.
Every diamond will reveal a prize amount underneath. Reveal three matching prize amounts and win one of those amounts.
Open the bonus prize box and, if a diamond ring is inside, win the corresponding prize.
A win is achieved by:
Matching three prize amounts
Revealing a diamond ring in the bonus prize box