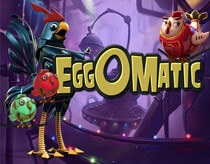 EggOMatic
It's the clucking good slot machine with a ton of bonus fun… Eggomatic sees you line up a factory's worth of prize eggs each full of different rewards, features and surprises.
EggOMatic
GAME INFORMATION
Video slot presentation with 5 reels, 3 rows, 20 fixed bet-lines
Wild symbols substitute to help you make those winning combinations
Bonus eggs travel along the factory conveyor belt
Stop a wild in under an egg to grab the special prize inside
Gain a ton of winning opportunities with spreading wilds
There's a full conveyor belt of eggs waiting in the free spin round
Surprise eggs could give you cash, wilds or even spins
Total return to player rated at 96.50%
Hit frequency of any win rated at 31.40%
Top single line jackpot of 10,000 coins
Total available combined jackpot of 94,750 coins
HOW TO PLAY - BONUSES
There's a unique and highly exciting bonus mechanic waiting for you on the robotic reels of Eggomatic. During any point in the base game the Eggomatic machine can produce a bonus egg that's carried along the conveyor belt at the top of the screen. Stop in a wild symbol underneath this egg to drop it down into play and win the associated prize.
Cash prize – these golden eggs have a number on the front of their shell, showing you how much money you can win when you land them.
Free spin egg – this fantastic egg has the power to take you straight into the slot machine bonus round where all the conveyor belt spaces are filled with bonus eggs.
Spreading wild egg – hit this egg and watch as those wild symbols spread across the reels giving you a ton of chances to hit those winning combos.
Surprise egg – this mysterious egg could contain any of the prizes available in the other eggs – what's inside? You'll have to win it to find out.