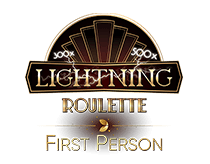 First Person Lightning Roulette
Want to strike the big money? Get ready for some electrifying action on First Person Lightning Roulette
First Person Lighnting Roulette
Game information
Standard game of European Roulette with single zero
Live Roulette game with multi cameras and great presenters
Extra action available in the form of the lightning feature
Every game round between 1 and 5 single numbers are struck by lightning
The lightning feature ramps up the returns from straight up bets
Straight up bets randomly increased by 50x, 100x, 200x, 300x, 400x or 500x
All other standard Roulette bets are in play to help you balance your action
Added value is available on every spin for Roulette enthusiasts
Optimised for all devices and playing screens
Recent numbers and statistics available throughout game-play
Pay-out percentage rated at 97.30% *
HOW TO PLAY – BONUSES
First Person Lightning Roulette is like your standard version of the French gambling classic. For over 300 years this wheel of fortune game has attracted the attentions of high rollers and now we've given it a unique twist.
Lighting Multipliers
Every round up to 5 numbers are randomly struck by lightning. The pay-out value of these numbers on a straight up bet can be increased by 50x, 100x, 200x, 300x, 400x or 500x. Instead of getting the standard return on your money – you'll get the big time pay-out offered by the multiplier value. It's your chance to hit the most massive money on offer from nearly every Roulette game out there.
Standard Bet Returns
All of your favourite bet types are available from the off in Lightning Roulette. Make your system work and ramp up your straight up bets with a ton of multiplier action. Get the following returns from this red hot variant:
Inside Bets
Straight up - 29-499 to 1
Split - 17 to 1
Street - 11 to 1
Corner - 8 to 1
Line - 5 to 1
Outside Bets
Column - 2 to 1
Dozen - 2 to 1
Red or Black - 1 to 1
Even or Odd - 1 to 1
1-18/19-36 - 1 to 1