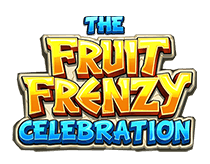 Fruit Frenzy Celebration
Want some juicy wins? Looking for the sweet money? You might find it on Fruit Frenzy Celebration
Fruit Frenzy Celebration
GAME INFORMATION
Video cluster pays game presentation with 8x8 grid
Select clusters of 3 or more symbols to fill up the respective meter
When you completely fill a meter you are awarded with a prize
Win multiple prizes and rewards from a single game
Use special symbols to progress through a single game
Charmed apple helps you complete any cluster
Lightning bolt clears a horizontal or a vertical row on the screen
Match 3 bonus coins to win a straight up cash prize
Match 3 free play symbols for 1-5 free plays on the game
As you progress through the game you can level up your character
Level up for clothes, parties and other fun features
Score in a win of over 10,000 points to launch the jackpot game
Open 6 doors to match 3 symbols in this big money feature
Win a prize ranging from 2x to 1000x in the jackpot game
Top jackpot prize of 1000x available
Return to player rated at 90.08%
HOW TO PLAY BONUSES
Choose your hero as you progress through this ancient Greek tale of wine, women and song. All you have to do is cleverly match the symbols on the grid. Find clusters of 3 or more adjacent symbols sitting side by side on the 8x8 playing grid – diagonals don't count and you'll fill up the fruity meters that sit atop the gaming space. Expect the following cool features to help you on your winning way:
Special Symbols
Collect special bonuses by hitting combinations of 5 or more fruit to win the following fruit:
Charmed apple – for the prettiest one. This charmed apple can be matched with any other fruit on the grid to give you a cluster win. Use wisely.
Mighty Zeus – this bolt from the heavens activates automatically once it's in play, clearing a whole line of horizontal or vertical symbols.
Bonus Features
Match 3 of the following symbols to win these cool bonuses:
Bonus coins symbol – win a straight up cash prize
Free game symbol – win 1-5 free game rounds played at your activating stake level
Prizes Available
Fill up the following fruit to earn the respective prizes:
Orange – 0.5x your stake
Lemon – 1x your stake
Blackberries – 2x your stake
Cherries – 5x your stake
Melon – 10x your stake
Jackpot Game
If you can manage to get a whopping 10,000 points in the standard game then you'll be riding the lightning towards the awesome bonus game. Open 6 doors and match 3 prizes to discover your prize which could be anything from a 2x multiplier all the way up to the game's top prize award of 1000x your stake.
Level Ups
These award invitations to parties, new clothes and all kinds of fun keeping your game play fresh and interesting at every single play.