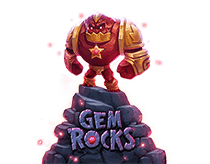 Gem Rocks
Your winning chances are set in stone – smash some dazzling prizes on the Gem Rocks slot
Gem Rocks
GAME INFORMATION
Video slot presentation with 5 reels, 4 rows and 4096 ways to win
Win a prize for any combination of adjacent symbols from left to right
Drop down wins give you access to a superb cascading win system
Win multiple times from a single spin with drop- down wins
Consecutive drop-down wins award you with a monster rock symbol
2 consecutive drop-downs give you a 2x2 sized symbol
5 consecutive drop-downs give you a 3x3 sized symbol
9 consecutive drop-downs give you a 4x4 sized symbol
Winning combinations guaranteed with the monster rock symbol
Maximum combined jackpot of 460,850 available
Hit frequency of any win rated at 20.8%
Return to player rated at 96.20%
HOW TO PLAY – BONUSES
There is some real hardcore winning potential in Gem Rocks. This game gives you concrete winning chances with every spin – utilising the following molten mechanisms that could see you getting stuck into a real landslide of cash:
Drop Down Wins
This is the classic cascading mechanism. Hit a winning combination on the reels and the symbols instantly blow apart leaving spaces on the grid into which the symbols above can drop, giving you the chance to make new combinations and score in even more wins. When does it all stop? When you fail to hit a winner – but there's no limit on the number of drop down wins you can earn.
The Gem Rock Feature
Hit multiple drop down wins to grab a monster rock. This is a combined symbol that takes up multiple spaces on the grid and guarantees a win. The following monster rocks are available:
Hit 2 consecutive wins to gain a 2x2 monster rock
Hit 5 consecutive wins to gain a 3x3 monster rock
Hit 9 consecutive wins to gain a 4x4 monster rock
Simply hit the reels and get ready to land some stone-cold wins – how will you ever carry all the heavy piles of cash up for grabs?