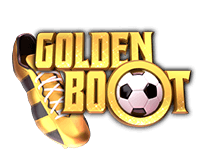 Golden Boot
After training all year, you have made the team – now make the play in Golden Boot 2018 Instant Win
Golden Boot
GAME INFORMATION
Pachinko style instant win game with ball drop and skill facility
Choose your team to play on the road to winning glory
Select your stake value per ball and you're ready to play
Drop balls into the goal to win prizes – it's that simple
Missed balls have the opportunity to light 1 of 3 LED side lights
Balls can turn lights off after they have been turned on
Light 3 LED lights at once for either 5, 10 or 20 extra balls
Golden balls score in bigger prizes than standard balls
Strikers randomly collect balls to allow for skill shots
Let the game automatically take skill shots with 90% accuracy
Top single ball jackpot of 500x your stake with gold ball
Win rate of any single ball giving you a prize 1 in 3.9
Return to player (100% accuracy player skill) rated at 99%
Return to player (autoshoot) 93.78%
HOW TO PLAY – BONUSES
Want to play some football? Take a ton of shots on goal with the awesome Golden Boot 2018. It's the instant win title that puts a whole load of swerve on the classic game of Pachinko. Choose your favourite team and select how many balls are going to drop into the game – and score goals.
Players
Some balls will be captured by strikers. You will have the chance to shoot at the goal using a skill factor to land prizes by using the directional arrow underneath the player to aim your ball at the goal. Unfortunately missed shots do not count towards the free ball LED lights.
If you do not want to use the skill based element to this game, have the game take your shots for you with a 90% accuracy.
Free Balls
On each side of the goal are 3 LED lights. Pass a ball through the light to turn it on, and then pass another ball through it to turn it off. Turn on all 3 lights at once to get 5, 10 or 20 randomly awarded extra free balls.