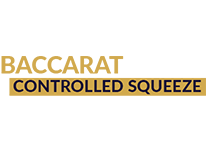 Live Baccarat Control Squeeze
Fancy yourself as a natural? Got the feel of the cards? Make Baccarat Control Squeeze your game.
Baccarat Control Squeeze
GAME INFORMATION
Fast paced version of the classic French card game
Play live with a real dealer and enjoy to the maximum on your desktop
4 camera views give you an authentic and dynamic live play experience
Smaller single version available on smart phone and table
Bet on the player, banker or on a tie – with a small house edge
If a hand counts as 0 or 7 it receives another card under the 3 rd Card Rule
Access live betting statistics including scoreboards (roads) and shoe stats
Fantastic easy to use and intuitive user controls
Unique features including pairs side bets and optional side bets
Theoretical return to player rated at 98.94%
HOW TO PLAY - BET ODDS
Baccarat Control Squeeze is a fast-paced variant of this French casino classic that set the London casinos alight in the early part of the last century.
During this version of the game the player controls the squeeze and can use a limited time window to peak at the cards on which they have bet.
This is the closest you'll come to a real casino squeeze experience. Now you can mix it up in a big way with the following bets on offer from this live version of a true high roller's proposition:
Core Game
Bet on player pays 1 to 1
Bet on banker pays 1 to 1 – house commission of 5%
Tie pays 8 to 1
Pairs Side Bets
Player pair pays 11 to 1
Banker pair pays 11 to 1
Optional Side Bets
Single perfect pair pays 25:1
Two perfect pairs pays 200:1
Either pays 5:1
Hand Combination Odds
Non-natural hand winning by
9 points pays 30 to 1
8 points pays 10 to 1
7 points pays 6 to 1
6 points pays 4 to 1
5 points pays 2 to 1
4 points pays 1 to 1


Natural hand wins pays 1 to 1
Natural tie pushes