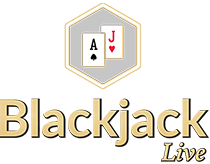 Live Blackjack
Feeling lucky? Take a seat at our Live Blackjack table for some classic card action and see if you can beat the dealer today!
Live Blackjack
GAME INFORMATION
The objective of LIVE BLACKJACK is to achieve a higher card count than the dealer, but without going over 21. The best hand is Blackjack – when the sum of values of the first two dealt cards is exactly 21. You compete only against the dealer, not against other players.
Played with 8 decks.
Dealer always stands on 17.
Double Down on any 2 initial cards.
Split initial cards of equal value.
Only one Split per hand.
Single card to each Split Ace.
No Double Down after Split.
Insurance offered when dealer shows an Ace. 
Blackjack pays 3 to 2.
Insurance pays 2 to 1.
Push game when hands tie.
HOW TO PLAY
The game is hosted by a dealer and allows up to 7 players. Click 'Sit Here' above the vacant seat you wish to occupy. The bet limits panel displays the minimum and maximum stakes permitted on the table. The chip display allows you to see the value of each bet you want to place. Once you are satisfied simply click 'place your bets'.
FEATURES
Side Bets
This Blackjack game includes optional side bets – Perfect Pairs and 21+3. You may place side bets in combination with your main blackjack bet. You have the chance to win on any side bet regardless of whether or not you later win on your blackjack bet.
Perfect Pairs
The Perfect Pairs bet gives you the chance to win if your first two cards comprise any pair – for example, two Queens, two Aces or two 3s. There are three types of pairs, each with a different payout:
Perfect Pair – same suit, e.g. two Aces of Spades.
Coloured Pair– different suits of the same colour, e.g. 2 of Diamonds + 2 of Hearts.
Bet Behind
The Bet Behind feature allows you to bet on a hand dealt to another player. You will share the outcome of the other player's hand. The payouts for Bet Behind wagers are the same as for ordinary bets.