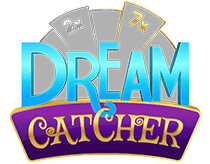 Dream Catcher
Are you ready to take a spin on the wheel of fortune in the awesome Dreamcatcher?
Dream Catcher
GAME INFORMATION
Live presentation of a wheel of fortune style spin game
Players have a choice of 6 numbers on which to place bets
The wheel is divided up into 54 equal segments
There are 2 unique special multiplier segments available on the wheel
The silver segment is a 2x multiplier and the gold segment is a 7x multiplier
When the wheel stops the pointer indicates the winning segment on the wheel
If the wheel stops on a multiplier segment all bets hold for another spin
When the wheel stops on any subsequent spin the multiplier is applied to wins
Successive multipliers are added together helping players hit big prizes
Return to player rated at 96.58%
HOW TO PLAY
If you like live action then you'll love a bit of Dreamcatcher. This fast paced gambling game is available as a real stream with a host keeping you updated on all the latest action and excitement.
Dreamcatcher is a wheel of fortune style game, designed to appeal to slots players. The wheel is separated into 54 segments with 2 bonus segments. These are the silver 2x multiplier segment and the gold 7x multiplier segment.
Payout odds are easy to remember. Players can play on 6 numbers – 1, 2, 5, 10, 20, 40 and the odds are the same as the number. So for instance a bet on the number 2 will pay a return of 2:1 on any bet.
Should the wheel stop on a multiplier section then all the bets on the grid remain in place and the winning bets on the next spin will be modified by the multiplier. If the wheel stops in another multiplier, then this is combined with the current multiplier to create even bigger winners.