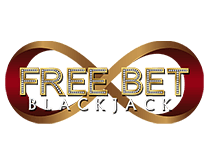 Live Free Bet Blackjack
Another crazy twist on a casino classic. Get that green baize rush on the tables with Free Bet Blackjack
Live Free Bet Blackjack
GAME INFORMATION
Live dealer presentation of the casino card game classic Blackjack
Play against the house in a real set up with interactive elements
Insurance is available against Blackjack
Play against the dealer with dealer 22 resulting in a push
Free double down on all 2 card hard 9, 10 and 11
Free splits on all matching pairs except 10s
Six card Charlie and extra bets available
Any pair side bet allows you to wager on your first 2 cards matching
21 + 3 side bet gives you options to bet on poker style hands
The HOT 3 side bet is all about valuing your cards and the dealer's first card
Bust It side bet lets you predict how badly the dealer will lose the game
Works seamlessly on tablet, desktop, smartphone and laptop
Return to player rated at 98.45%
HOW TO PLAY - BONUSES
Welcome to the classy world of live dealer Blackjack. With a twist. This game combines the classic format of everyone's favourite casino card game with a whole new slew of betting options that ratchet up the action to an intense level on every hand. Couple this with a fast and easy to use interface and you'll see that this is one title you can't miss. Get the low-down on all the facts below:
Free Double Down
Yes, you read it right. This game gives you a completely free double down of the same bet on two card hard 9, 10 and 11. This is a great chance to add even more cash to your stack.
Free Split
Land any pair in this game with the exception of 10s and you'll get the option to split for free. This gives you another bet at the same level as your original bet – letting you double up in effect for no extra cost.
Extra Bets
Make the following additional bets to boost your winnings and get even better returns from the game:
Any pair side bet – there are 2 types of any pair side bet. Simply bet on the first 2 cards in your hand matching (i.e. 2 queens, 2 aces etc.)
The 21+3 side bet – give you a chance to bet on your first 2 cards plus the dealer's card making a poker style combination. Suited trips gives the big cash.
HOT 3 side bet – bet on the values of your first 2 cards plus the dealer's card. Hit 3 sevens for the big money on this one.
Bust out bet – here you can bet on the dealer losing. The more cards they use to bust – the greater your returns on this red hot wager.