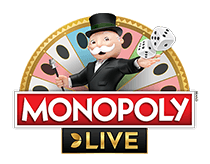 Live Monopoly
Play the wheel of fortune big money game with a chance of board game bonus in Monopoly Live
Live Monopoly
GAME INFORMATION
Live play wheel of fortune game with Monopoly themed board game bonus
Bet on the wheel to win instant prizes
Number bets of 1, 2, 5 and 10 return the number's odds (e.g. 5 pays 5:1)
Chance bet gives you random cash prize
Bet on 2 or 4 rolls to win access to the bonus game with respective rolls
Bonus game allows you to progress round the Monopoly board
Land on properties, utilities, railways and free parking for prizes
Build houses and hotels on properties for increased wins
Chance and community chest award prizes or deduct fees
Double rolls on your dice give you a free roll
Land on jail square and go to jail. Roll a double to get out.
Pass go and all prizes on the board are doubled
Return to player rated at 96.23%
HOW TO PLAY BONUSES
Monopoly Live is the big money wheel of fortune game with the classic board game twist. Simply bet on the numbers, dice rolls and chances segments on the wheel. Win bet odds of your chosen number, take a chance for random cash and multipliers or pick rolls for entry into the board game bonus. Find more about this fast-paced game that takes place live with real dice rolls…
Basic Betting
Bet on the bonus wheel. Numbers pay you the same odds as the number. Bet on number 5 for a 5-1 return. Choose chance to win cash prizes in the instant win game or bet on dice rolls to get into the big money Monopoly bonus round. You must choose either 2 rolls or 4 rolls on the wheel and hit this during your spin to receive the respective number of rolls in the bonus game.
Chance Bet
Land on a chance bet and win either a cash multiplier or a random cash amount helping boost your bank balance. This cheeky bet can hold some of the biggest rewards in the game.
Monopoly Specials
Enter the Monopoly board themed bonus where you get to take all your rolls. Progress is made around the board with the following actions when you land on different squares:
When you enter the bonus round all properties, utilities, railways and free parking give you prizes.
During the bonus, houses and hotels can be built on properties. This increases the value of the prize if you land on the property.
Double give you an additional roll except when doubles get you out of jail
Chance and community chest can award cash prizes or make you pay a fee.
Bonus game taxes and fees cannot leave you owing the game money.
Income tax reduces bonus by 10%. Super tax by 20%
Passing go doubles all prizes on the board.
If you stop on go to jail, you go to the jail square and must roll a double to leave.