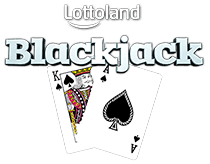 Blackjack
The Casino favourite – nothing shows your skill like a well-played hand of Lottoland Blackjack!
Lottoland Blackjack
HOW TO PLAY
The classic game of Blackjack is here with this sophisticated, intuitive game that offers all the excitement and glamour of the casino as you put your skill against the dealer!


To make a bet – simply tap a chip and place it on one of the 3 spaces on the table.
You can play up to 3 hands at once against the dealer.
The aim is to get closer to 21 than the dealer without going over. A blackjack – an Ace and a picture card, will even beat 21.
After the hand is dealt, you can make a number of choices, from straight twist/stick – to split, double, take insurance or an even money bet.
Once you've made all your choices, the dealer plays out the hand and all winnings are paid.
Popular side bets on your or the dealer's cards are also available - including, pairs, straight and flush.
8 decks in play – all cards returned to the deck and reshuffled after each hand.
PAYTABLE
The theoretical return to player for this game is 99.42%
The payout format means that when you win, you get your bet plus a multiple of your bet.


Winning Hand pays 1:1
Insurance pays 2:1
Blackjack pays 3:2