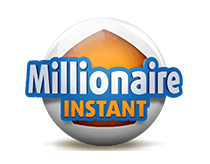 Millionaire Instant
You could become a millionaire by playing Millionaire Instant! Play now for only £0.10
Millionaire Instant
HOW TO PLAY
Select your stake between £0.10 and £2 to match your budget
Your win amount depends on the stake you are playing with and is visible in the Paytable tab
.
Pick 5 main numbers and 2 extra numbers. Click PLAY to start and CHANGE NUMBERS to change your numbers
You can fill in up to 12 fields
Quick Pick - click on the 'dice' symbol to select random numbers.
As balls are drawn, any matching numbers in your selected numbers will be highlighted. Match any pattern on the paytable and win the corresponding prize.
Pressing "QUICK PLAY" will draw all of the remaining balls rapidly.
A win is achieved by matching a pattern from the prize table
The theoretical average return to player (RTP) is 94.4%.