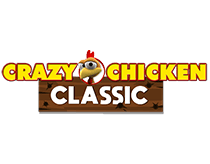 Crazy Chicken Classic
Get blasting those birds out of the sky as you hunt down the prizes in the awesome Crazy Chicken Classic
Crazy Chicken Classic
GAME INFORMATION
Skill based game with luck component giving you an awesome instant win title
Engaging game play allows you to test your abilities and improve outcomes
Shoot the chickens out of the sky in the first round with a shotgun
Get 10 shots in the first round before you have to reload your shotgun
The more difficult the chicken is to hit – the greater the points value
Win cash prizes for accurate aiming and shooting in the first round
The greater the number of chickens you hit, the more boxes you get in round 2
Round 2 has you opening cash vaults to receive prizes
Open between 1 and 10 vaults to give you a straight up cash prize
All prizes from both game rounds are added together for a final fund
Maximum jackpot prize of 100,000 available
Odds of winning maximum prize 1:1,000,000
Return to player is variable on skill-based component with max of 95.5%
HOW TO PLAY – BONUSES
Crazy Chicken Classic is an instant win with a big difference. Pick up your gun and go hunting in the first round as you use our feathered friends as target practice, before blowing open some cash vaults in the second round. Play the game in the following way:
Round 1: Chicken Shoot
In the first level of the game you get to shoot the crazy chickens as they fly by. You get 10 shots out of your shotgun, giving you the chance to shoot birds at different distances, before you have to reload. Rack up points with some savvy target practice. Earn cash prizes for smart shooting.
The more points you score, the greater the number of boxes you get in the following round.
Round 2: Open the Boxes
Depending on how many chickens you scalped in the previous round, you will be given between 1 and 10 boxes to blast open. Each will award you with a cash amount that's added to a total.
Totals from both games are added together and you are paid out the total amount.