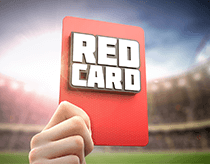 Red Card
There are 43 good balls and only 6 bad. Pick good 6 balls to double your money and then keep on picking to win more. Careful to avoid the 6 bad balls though… and remember you can cash out at any time.
Red Card
GAME INFORMATION
To play Red Card, simply begin picking balls. You can touch each ball individually, or you can swipe multiple balls at a time. Good balls will reveal trophies. Once you have selected one good ball, the 'cash out' button is enabled. You can choose to cash out with double your stake or keep playing.
From this point on, you will be able to cash out after each good ball you select.
There are 6 red cards. Selecting one of these will end the game and lose your existing prize.
Each game has 43 winning trophies and 6 red cards
Pick 6 trophies and double your money
Choose to cash out or keep scoring by picking more trophies
Find all 43 trophies to win the jackpot, but beware – a single red card will send you off and end your game!
Return to player rated at 91%