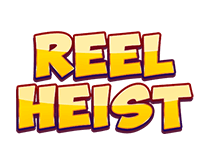 Reel Heist
Chase down the villains and claim the spoils of justice on the awesome cops 'n robbers game Reel Heist
Reel Heist
GAME INFORMATION
Video slot presentation with 5 reels, 4 rows and 40 pay-lines
Cop symbol can appear on the reels randomly to act as the wild symbol
Wild helps you make winning combinations on the reels through substitution
Robbers appear randomly offering prizes of 7x up to a maximum of 2000x
Robbers jump on the reels causing the cop wild to chase them round the grid
Cops and robbers move 1 position following every single spin
If the cop can land on the robber then you win the reward prize as listed
Cop can throw his baton at robbers in adjacent squares to stun them
Stunned robbers will always be caught by the game
RTP and paytable information is stored within the game
HOW TO PLAY BONUSES
Reel Heist is an innovative game that gives you a taste of the classic US cops and robbers theme with a special twist. You get the chance to play as the strong arm of the law on this slot, going into pursuit mode to catch the gangsters and grab the rewards. There's only one mechanic available on this slot, so use the following feature to track down the bad guys for big money prizes:
Capturing Robbers
Robbers appear randomly on the reels. Each one holds a wanted poster with a stake multiplier value of the reward for their successful capture. This can range from 7x up to as much as 2000x times your activating stake.
The cop symbol also appears on the reels at random. He acts as a wild symbol and can move around the grid between spins and help you hit winning combinations.
When a robber lands on the reels, the cop can chase him around the grid to claim the award, by landing on the same square. Watch as the game goes into siren mode with the reels flashing. The cop has to catch the robber before he disappears off either side of the grid to claim a prize.
The cop can also throw his baton at robbers in adjacent squares to stun them in aiding their capture. This is a randomly activated feature that helps you claim the prize on the robber.
JACKPOT OVERDRIVE
The Jackpot Overdrive is a group of progressive jackpots that increase incrementally each time one of the Jackpot Overdrive slots is played. When one of the progressive jackpots is won, the main prize is reset again to a predetermined value, and resumes increasing as players play one of the Jackpot Overdrive slots.
There are 3 progressive jackpots within the Jackpot Overdrive:
Rapid Jackpot– hits hard and fast
Daily Jackpot– guaranteed to hit before the timer reaches zero
Jumbo Jackpot– for a life-changing win!