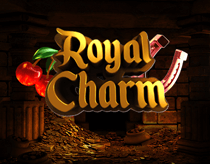 Royal Charm
With a selection of lucky charms spanning from cultures across the globe, you will always have luck on your side.
Royal Charm
Game information
9x Winning Symbols
Autoplay / Autobet
Bonus round with up to 200% win multiplier
How to Play
Select your bet size per round by using the + & - symbols in the "BET" box.
Place the "Royal Charm" on top of one of the boxes where you think a winning symbol could appear. This can be done manually or by clicking the "Random" button and the game will automatically place the "Royal Charm" for you.
Click / Tap the "Play" button.
You then have the choice to manually "scratch" each box by tapping/clicking on each square or by selecting the "Reveal All" button.
Once all the hidden charms are revealed, if there are 3 matching symbols, you win the corresponding amount.
If the "Royal Charm" that you placed before the game began is located on top of one of the winning combination squares, the bonus round is triggered. In the bonus round, select one of the treasure chests which hold values of 120%, 150% and 200%. The amount selected then gets multiplied against the amount already won.
The autobet feature is located next to the "PLAY" button and lets you select the number of automatic rounds you would like to play without the need to keep manually selecting the options.