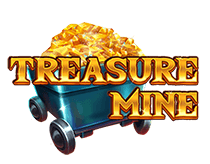 Treasure Mine
Team up with Redbeard as you raid the dragon's lair looking for the gold in Treasure Mine
Treasure Mine
GAME INFORMATION
Video slot presentation with 5 reels, 4 rows and 40 pay-lines
3 different wild types help you complete winning combinations
Different actions happen when you land different combinations of wild symbols
Redbeard and treasure strike wilds gives you a straight up cash prize
Redbeard and dragon wilds give you a trail of random wilds on the reels
Dragon and treasure wilds multiplies the treasure wilds on the grid
All three wild types combine the 3 different combination effects for big wins
Stop in 3 bonus scatters to get access to the bonus round on this slot
Bonus round sees you picking directions on a crazy mine cart journey
Pick up jewels and gems to earn cash on the mine cart bonus ride
Top single line jackpot prize of 320 coins available
Top combined jackpot prize of 1000x your stake available
Return to player rated at 95.20%
HOW TO PLAY BONUSES
There's plenty of cash available in the amazing Treasure Mine slot machine where you get down and dirty with a horde of loot and a mean looking dragon. All you have to do is trust in Redbeard's skills and this bearded adventurer will help you on your winning ways with the following red hot game mechanics:
Redbeard Wild and Treasure Strike
Land in the Redbeard wild and treasure strike wilds on the same spin and Redbeard will leap onto the treasure and grab as much gold as he can, stuffing his pockets with coins and gems that you get to keep thanks to his hunger for money.
Treasure Strike Wild and Dragon Wild
Hit the treasure strike wild and the dragon wild on the same spin and the dragon will blow flames onto the treasure causing the wild to multiply and giving you a whole load of extra wilds on the same spin. This could give you plenty of winning chances on a single spin.
Dragon Wild and Redbeard Wild
Stop in the dragon wild and Redbeard wild on the same spin and the dragon will breathe fire onto Redbeard setting him alight. Watch as he runs around the reels on fire spreading wild symbols where-ever he runs.
All Three Wild Types
If you can hit all wild types on a single spin, the dragon breathes fire onto the treasure wilds, multiplying them all over the grid. Redbeard then raids the treasure before running off the reels leaving a scorching trail of wilds as he goes. This can lead to some truly massive prizes.
Treasure Run
When you land 3 bonus scatters on the reels, you activate a red hot second screen bonus. Here Redbeard jumps into a mine car and bounces along some tracks picking up jewels and diamonds as he goes to earn big money rewards. Choose your trail carefully as this leads to a real trail of cash. His luck on the rails leads to you claiming your fortune in this fast paced little bonus feature.