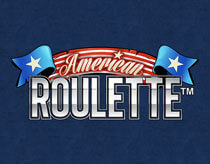 American Roulette
It's the stateside version of the French gambling classic, so what else could they call it but American Roulette? Bet red or black, high or low and use your own system to hit the wins.
American Roulette
GAME INFORMATION
Do you want that Las Vegas experience in your own home? Well look no further than the superb action and red hot thrills offered by American Roulette. This online casino version of the classic makes it incredibly easy to place your bets and hustle over the winning line. With prizes galore and a super smooth interface, this is one title you'll want to play again and again.
Video slot presentation of American Roulette
Double zero version of the French classic
Make inside, outside, racetrack bets or any combination of these three
Place your bets on the virtual table for easy and simple play
Use the auto-play function for fast play
Save your favourite bets for easy use
Study the trends of the table with the Roulette billboard
Return to player rated at 94.74%
HOW TO PLAY
American Roulette is a standard Roulette game with a zero, double zero, inside bets, outside bets and racetrack bets.
Place your bets using the chips available at the bottom of the screen at the appropriate points and places on the racetrack and grid. Use the CLEAR button to remove any misplaced bets.
Use the SPIN button to start a game. This removes the necessary funds from your account and the ball is set into motion around the virtual American Roulette track.
When the ball stops in a segment of the wheel, all the winning bets are paid out and the player is given a chance to make the same bets again.
Save your bets using the FAVOURITE BETS feature, name them and access them quickly from the drop down menu.
HOW TO PLAY - BONUSES
Expect the following returns on your bets from American Roulette
| | |
| --- | --- |
| Straight | 35:1 |
| Split | 17:1 |
| Three Line (Street) | 11:1 |
| Corner | 8:1 |
| Top Line | 6:1 |
| Six Line | 5:1 |
| Column | 2:1 |
| Dozen | 2:1 |
| Red/Black | 1:1 |
| Even/Odd | 1:1 |
| 1-18/19-36 | 1:1 |