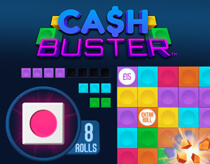 Cash Buster
The colour of money comes to life with Cash Buster. Collect your way to a top prize by blasting the blocks and watching them drop. It's a virtual rainbow of rewards!
Cash Buster
HOW TO PLAY
Roll the coloured die and destroy the blocks as you try to smash and collect your way to a top prize. Reveal a colour in the Cash Buster Zone, destroy the blocks and hope that your lucky colour drops for a chance to win one of six cash prizes. Don't forget to keep an eye out though for an instant cash prize or an extra roll.
You have 8 rolls of the dice
After each roll of the dice, a colour is shown on the front face of the dice. Any block of that colour in the CASH BUSTER ZONE will be destroyed along with any adjacent blocks of the same colour.
After blocks are destroyed the corresponding slots in the prize table are filled. For example if you destroy 5 red blocks, 5 slots will be filled on the red row of the prize table.
Destroying an "Extra Roll" block gains another roll of the dice.
A win is achieved by:
Filling a row on the prize table. You win the prize amount shown for that row.
Destroying a block with an instant prize on it. You win the amount shown on the destroyed block
This game has an RTP of 65.20%