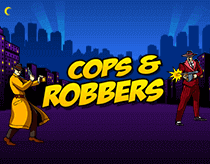 Cops & Robbers
Pick-up your Tommy gun and be a robber or step into the justice role and be a cop. Cops & Robbers scratch card game, with its 1940s style and theme, and crime scene soundtrack, is a thrilling 3x3 scratch card game
Cops & Robbers
Cops & Robbers is a 3x3 online scratch card game with 1940 retro styling. In the center of the screen are 9 cash images that are hiding values. All you need to do is "scratch" each to find the matching values. When playing max bet, you standard to win a cool, 100,000 jackpot!
Features of Cops & Robbers:
9 x Winning Symbols
Autoplay / Autobet - 5 to 50 rounds
How to Play
Playing Cops & Robbers is easy:
Set the amount you wish to wager per round (ticket) using the "+" and "–" buttons located within the "BET" box.
Once you have set your bet amount, hit the "BUY TICKET" button.
Now," scratch" (tap/click) on each square to reveal the hidden value, alternatively select "REVEAL ALL" and all hidden values will automatically be scratched for you.
If there are 3 matching values, then that amount is won and will flash in the center of the screen. The total win for a round will also be shown in the "WIN" box located next to the "Buy ticket" button.