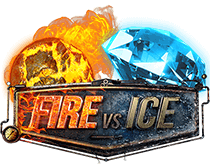 Fire vs Ice
Join one of the classic battles that's defined our universe – it's the Fire Vs Ice slot
Fire Vs Ice
Game information
Video slot presentation with 5 reels, 3 rows and 25 pay-lines
Wild symbols substitute where-ever possible to complete combinations
Fire wilds spawn more 2 more wilds into adjacent stop spaces
Ice wilds spawn 1 additional wild and stick in place for a single spin
Use the Fire vs Ice meter at the top of the grid to trigger bonuses
Alternatively hit scatters in play to activate the Fire and Ice feature rounds
Fire feature gives you 5-15 free spins on a second set of reels
Land in a hot 7 on the 5th reel during free spins for a Fire retrigger
Ice bonus game gives you a chance to earn 1, 2 or 3 plays
Complete Ice bonus without busting for another trigger
Top jackpot prize of 5,000 coins available
HOW TO PLAY – BONUSES
There are a number of cool bonus mechanisms on the reels of Fire Vs Ice that power up your spins to help you win the biggest prizes…
Wild Bonuses
The two wild types on the reels of Fire and Ice have different bonus mechanisms. These are as follows:
Fire - gives you two additional wilds in additional stop spaces on the grid – allowing you to boost your winning combinations and prizes.
Ice - adds another wild onto the grid in an adjacent stop space – both wild then will stay in place for the following spin.
Bonus Features
During any spin the amount of hot symbols and cold symbols on the grid affect the fire flames and ice beams that stretch between the cannons at the top of the reels. If the flames win, you're awarded a fire bonus. If the cold energy wins then you are rewarded with an ice bonus.
You can also land in 3 or more fire or ice scatters to earn access to the bonus game.
Fire Free Games - win between 5 and 15 free spins taking place on a second set of wheel where you can earn a bonus re-trigger for hitting a hot 7 on the 5th reel.
Ice Free Games - earn 1, 2 or 3 turns on the ice bonus game – and if you can complete the game without busting then you'll earn a truly cool re-trigger.