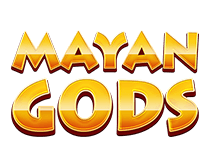 Mayan Gods
Embrace the supreme powers of a lost civilisation on the reels of the magical Mayan Gods slot game
Mayan Gods
GAME INFORMATION
Video slot presentation with 5 reels, 3 rows and 20 pay-lines
Wild symbols help you complete winning combinations on the reels
Mayan chain reaction feature lets you win multiple times from a single spin
Chain reaction removes winning symbols from the grid leaving spaces
New symbols drop into space giving you chances to make new combinations
Mayan gods appear randomly on the reels to grant you bonus features
Mayan King is a 2x2 wild symbol that can bring additional wilds onto the reels
Mayan eclipse transforms symbols on the grid into matching symbols
UFO drops from the skies to transform low paying symbols into high payers
Mayan shaman increases a multiplier count before clearing the grid
Any wins you hit on the newly filled grid are subject to the shaman's multiplier
RTP and paytable information is stored within the game
HOW TO PLAY BONUSES
Travel to a lost world of shamanic magic and slot machine thrills and spills in the awesome Mayan Gods. Unlock the power of the ancients in an outstanding base game that has the potential to pay you some heavenly prizes on any spin. Each of the gods can grant you special powers to ramp up the action with the following bonus mechanics in full effect:
Mayan Chain Reaction
When you hit a winning combination on the reels, you're paid out a prize before the symbols disappear from the grid, leaving spaces into which the symbols above can drop. This gives you the power to win, win and win again from a single spin.
Mayan Gods Bonus
Each of the Mayan Gods can help you with instant win bonuses straight off the reels. These include the following:
Mayan King – acts as a 2x2 wild helping you make winning combinations and has the power to add extra wilds to the reels.
Mayan Eclipse – this 2x2 symbol transforms itself and other symbols on the grid into matching symbols increasing your chances of big wins.
Mayan UFO – comes down from the skies and uses strange technology to transform low paying symbols on the grid into high paying symbols.
Mayan Shaman – awards a multiplier then destroys all symbols on the grid. New symbols drop in to fill up the grid – and any prizes you gain will be increased by the multiplier value.
These bonuses are not exclusive either. Each of the gods can combine with other gods on a single spin to grant you mystical wins beyond your dreams.
JACKPOT OVERDRIVE
The Jackpot Overdrive is a group of progressive jackpots that increase incrementally each time one of the Jackpot Overdrive slots is played. When one of the progressive jackpots is won, the main prize is reset again to a predetermined value, and resumes increasing as players play one of the Jackpot Overdrive slots.
There are 3 progressive jackpots within the Jackpot Overdrive:
Rapid Jackpot– hits hard and fast
Daily Jackpot– guaranteed to hit before the timer reaches zero
Jumbo Jackpot– for a life-changing win!