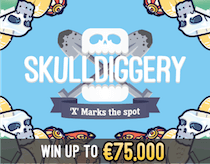 Skulldiggery
Set sail for riches as you choose where to hunt for treasure, mark 5 spots to dig and match symbols to claim the spoils!
Skulldiggery
Choose the Island you think contains treasure and go digging for riches. Skulldiggery is an instant win game offering a maximum prize of €75,000 and you can play from as little as €0.20
How to play
Choose a stake and press Play
Select a map or play with the one provided
Mark 5 spots with an X and press Dig
X's can only be placed on land and not in the sea
Winnings
Match 3 treasure items to win and get nothing for matching junk.