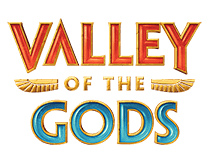 Valley of the Gods
Join Horus and Anubis as you travel to the Valley of the gods for an unforgettable adventure
Valley of the Gods
GAME INFORMATION
Video slot presentation with 5 reels, 3 rows, 45 to 3125 ways to win
Game pays out for any combination of symbols across the grid
Hit any win on the reels to trigger the automatic respin function
Winning combinations trigger golden scarab mechanism
Golden scarabs crawl over reels to remove 1 of 12 blockers from the grid
Blockers hide reel positions that can be used to make more combos
When all blockers are destroyed extra lives and multiplier functions deploy
With no blockers left all scarabs turn into red or blue scarabs
Extra lives start with 1 life and you gain 1 additional life every 5 red scarabs
When you fail to hit a win on respin an extra life will give you another chance
Multipliers start at 2x with additional multipliers for every 5 blue scarabs
All wins from your respins are boosted by the respective multiplier
Top single combination jackpot of 500 coins
Return to player is rated at 96.20%
HOW TO PLAY – BONUSES
Dive deep into the Valley of the Gods to dig up the treasures of the ancients and be reborn as a massive prize winner with all the innovative features and systems available on the reels. Expect the following fun:
Respins
Every time you hit a winning combination on the reels of Valley of the Gods, you'll be awarded with a single respin. These respins keep on coming as long as you land the wins – all played out at your existing bet level.
Destroying Blockers
You'll notice that there are 12 scarab blockers hiding spaces on the reels. Every time you hit a win, each winning symbol turns into a golden scarab that destroys one of the blockers. When there are no blockers left the scarabs turn into red and blue scarabs that are used for the game's twin features.
Lives
When all the blockers are destroyed, you are awarded with an extra life. You'll also be awarded with further extra lives for every 5 red scarabs you collect. When you fail to hit a winner on your respins, these extra lives come into play, giving you another chance to spin those reels.
Multipliers
After you have destroyed all the blockers, you are awarded with a 2x win multiplier, with further multipliers awarded for every 5 blue scarabs you collect. Following any winning spin your prizes will be multiplied by the current win multiplier boosting your bankroll in a big way.