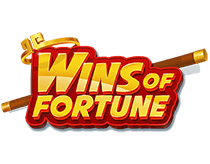 Wins of Fortune
Live the legend on the reels of Wins of Fortune – experience the magic of Monkey and pals at its best
Wins of Fortune
GAME INFORMATION
Video slot presentation with a 3,3,4,4,5 reel layout and multiple bet-ways
76 ways to win in the base game, 90 ways to win in the first respin
154 ways to win in the second respin, 164 ways to win in the third respin
259 ways to win in the fourth respin, 259 ways to win in the super respin
Wild symbols help you complete your winning combinations on the reels
Every winning combination you hit triggers the basic respin function
During the basic respin your winning symbols lock in place on the grid
With respins the leftmost reel drops away and the rest of the reels respin
Create more winning combos or add to your existing combo for more respins
Respin streak will continue until you have a complete 5x5 reel arrangement in view
With the 5x5 grid you can now access the super respin function
The super respin function locks your winning combo in place on the grid
Super respins now act as a sticky win system helping you build your combo
Adding new combos or building your existing combo triggers more super respins
Super respins end when you are unable to add any more wins into the mix
Top single line jackpot of 2.5x your stake available
Return to player rated at 96.54%
HOW TO PLAY BONUSES
Travel off to on a magical adventure with all the characters of the classic Monkey legend from the Chinese mythos as you attempt to grow you reels and grab those big money combinations. Wild symbols help you make the winners, whilst the cool respin and super respin functions hold the keys to the best cash treasure on offer from this title:
Respin Function
Wins of Fortune uses a clever respin feature that can turn any small combination into a cascade of wins. When you hit a prize paying combo on the reels, the leftmost reel drops away and a new 5 row reel is added to the end of the grid.
The symbols that make up your combination hold in place and the remaining reels respin to give you new symbols on the grid. If these make a new combination or add to your existing winning combinations then the whole respin function starts up again and gives you chances to keep on adding extra reels and hit respins.
Super Respins Function
When all the 3 row and 4 row reels have been removed from play and you are left with a set of 5x5 reels giving you access to the super respin function. Now no more reels are added on to the end of the grid, instead all of your winning combinations lock in place and the remaining reels respin – giving you a chance to build some massive sticky win combinations.
The super respin function is the key to hitting the biggest wins on this slot machine and carrying home the top prizes.